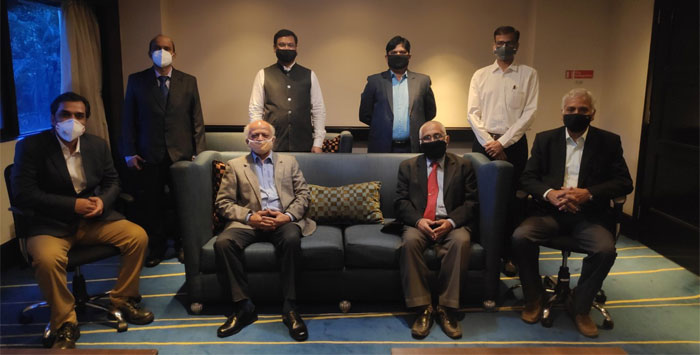 The Machinist Super Shopfloor Awards 2020 - Jury Meet
To view glimpses of The Machinist Super Shopfloor Awards 2020 Jury Meet, Click here
Jury Meet 2020 concludes safely and successfully in Pune
Sixth Edition of The Machinist Super Shopfloor Awards gains momentum
The challenges of the Covid-19 pandemic have not dampened the spirit of the Indian manufacturing companies competing for the coveted Machie Trophy for the year 2020. Although, the proceedings have been delayed due to the lockdown restrictions, manufacturing plants from across the country have shared their nominations with the same enthusiasm and energy like that last five years.
Overwhelming response
Our team is indeed overwhelmed by the response in terms of the quality as well as the quantity of the nominations received for The Machinist Super Shopfloor Awards 2020. Nominations have poured in from almost every corner of the country – from Chandigarh to Coimbatore, from Baroda to Bengaluru, from Pune to Pithampur, from Pantnagar to Palghar, from Mumbai to Mysuru, from Dewas to Dharwad, from Aurangabad to Ahmedabad, from Solapur to Sanand, and many more places making this a truly National Platform.
Great dedication of the Jury
Importantly, these nominations have been evaluated with all dedication and diligence by our fantastic Jury Team that braved all the fears of the pandemic by adhering to all the regulatory and medical norms stringently. Hats off to these industry leaders for giving their valuable time for this amazing cause. Like last year, our Editor, Niranjan Mudholkar too joined the Jury Team this year adding the editorial dimension to this already wonderful team. (See the Jury Members page to know who joined our Jury Team this year.)
Way ahead
The Jury evaluation is with us and we will soon be announcing the winners. Keep watching this space for more information!
Our Super Partners
We are extremely thankful to all our partners for their continued faith and confidence in this platform despite an unprecedented challenge like the Covid-19 pandemic. The Ace Micromatic Group is our Presenting Partner while MotulTech is our Powered By Partner. Forbes & Company Limited with Brand Totem is our Cutting Tools Partner, while igus India is our Associate Partner. Thanks once again to these Super Partners that this platform continues to serve the Indian Manufacturing industry in all its glory.